Keep cosy indoors this winter with MOJO's favourite Winter warmer recipes.  Make use of your fabulous new Kitchen and cook until your heart's content and your bellies are full. From comforting slow-cooked chilli con carne to steaming vegetable and lentil soup – we've listed four of our favourite Winter recipes below.
Slow-Cooked Chilli Con Carne
A slow-cooked chilli con carne always goes down a treat and warms your heart and soul. Make a big batch and freeze leftovers for another night. Typically served with white or brown rice, however this recipe is served over a baked sweet potato. Yum!
Ingredients:
4 onions, chopped
3 carrots, chopped
4 celery stalks, trimmed, chopped
4 garlic cloves, chopped
1/4 cup (60ml) olive oil
2 each red and yellow capsicums, seeds removed, chopped
1 red and 1 yellow chilli chopped, plus extra sliced red and yellow chilli to serve
600g beef brisket or chuck steak, cut into 3cm cubes
1 tbs ground cumin
1 tbs ground coriander
1 tbs smoked paprika 
1 tbs cocoa powder
3 x 400g cans chopped tomatoes
400g can adzuki beans (red mung bean)
2 x 400g cans kidney beans
6 small sweet potatoes
Coriander sprigs, lime wedges and guacamole, to serve
Method:
Preheat oven to 170°C. Grease a baking tray and line with baking paper.
Place the onion, carrot, celery and garlic in a food processor and whiz until finely chopped.
Heat 2 tbs oil in a large flameproof casserole with a lid over high heat. Add capsicum and chilli, and cook, stirring, for 3-4 minutes or until softened. Add beef and cook, stirring occasionally, for 5 minutes or until browned all over. Add chopped vegetable mixture, spices and cocoa powder. Season, and cook, stirring regularly, for 15 minutes or until the vegetables have softened.
Add the tomatoes and beans along with their canning liquid. Bring to the boil and cover, then transfer to the oven. Cook for 3 hours 30 minutes or until meat is tender and the sauce is dark and rich. In the final 1 hour 45 minutes of cooking, prick sweet potatoes all over with a fork and place on the prepared baking tray. Drizzle with remaining 1 tbs oil and roast for 1 hour 30 minutes or until tender.
Remove chilli con carne and sweet potato from oven. (If chilli has not reduced enough, bring to the boil over high heat for 15 minutes or until reduced).
Make an incision along the length of each sweet potato and carefully squeeze open. Divide half the chilli con carne among sweet potatoes. Sprinkle with coriander and sliced chilli and serve with lime wedges and guacamole.
Remaining chill con carne will keep refrigerated for up to 5 days or frozen for up to 3 months.
Credit: delicious.
Vegetable and Lentil Soup
When it's cold outside, everyone wants soup! This recipe is easy, affordable to make and healthy! Here's how to make a great homemade vegetable soup recipe that's packed with immunity-supporting Vitamin C, plus you get your daily intake of vegetables! 
Ingredients:
85g dried red lentils
2 carrots, quartered lengthways then diced
3 sticks celery, sliced
2 small leeks, sliced
2 tbsp tomato purée
1 tbsp fresh thyme leaves
3 large garlic cloves, chopped
1 tbsp vegetable bouillon powder
1 heaped tsp ground coriander
Method:
Tip 85g dried red lentils, 2 quartered and diced carrots, 3 sliced celery sticks and 2 sliced leeks into a large pan with 2 tbsp tomato purée, 1 tbsp fresh thyme leaves, 3 chopped garlic cloves, 1 tbsp vegetable bouillon powder and 1 heaped tsp ground coriander. 
Pour over 1½ litres boiling water from the kettle, then stir well.
Cover and leave to simmer for 30 mins until the vegetables and lentils are tender.
Ladle into bowls and eat straightaway, or if you like a thick texture, blitz a third of the soup with a hand blender or in a food processor.
Credit: BBC Good Food
Chicken & Leek Pie
This pie is all about wholesome goodness. You'll be completely satisfied with the flaky pastry and a creamy filling with a hint of mustard. This recipe is perfect for a weekend family lunch.
Ingredients:
2 cup (500ml) chicken stock
750-gram chicken breast fillets
60-gram butter
1 (500g) leek, thinly sliced
2 (300g) stalks celery, trimmed, finely chopped
2 tablespoon plain flour
2 teaspoon fresh thyme leaves (plus extra to serve)
1/2 cup (125ml) milk
1 cup (250ml) pouring cream
2 teaspoon wholegrain mustard
2 sheets puff pastry
1 egg yolk, beaten lightly
Method:
Bring stock to the boil in a medium saucepan over high heat. Add chicken; return to the boil. Reduce heat and simmer, covered, about 10 minutes or until chicken is cooked. Remove chicken and chop coarsely. Reserve 1 cup of the poaching liquid.
In a medium saucepan, heat butter; cook leek and celery, stirring, until leek softens. Add flour and thyme; cook, stirring, 1 minute. Gradually stir in reserved poaching liquid, milk and cream; cook, stirring, until mixture boils and thickens. Stir in chicken and mustard; season. Cool.
Preheat oven to 220°C (200°C fan-forced). Grease a 1-litre (4-cup) pie dish with rim. From one sheet pastry, cut 4 strips slightly wider than dish rim; arrange strips on rim, pressing firmly until rim is covered. Brush with a little egg yolk.
Spoon filling into dish; roll out remaining pastry sheet slightly to fit pie dish. Place over filling. Press edges to seal; trim. Brush pastry with egg yolk; cut two small slits in top. Bake 25 minutes or until puffed and browned. Sprinkle with extra thyme.
Credit: Women's Weekly FOOD
And the must have finishing touch - DESERT!! - Apple & Walnut Loaf with Butterscotch Sauce
For the sweet-tooths out there, here's something that will fix your winter cravings. This warm apple and walnut loaf won't last long drizzled with the most delicious butterscotch sauce. Get baking.
Ingredients:
125g butter, softened
1/2 cup firmly packed brown sugar
2 eggs
1 cup self-raising flour
1 teaspoon ground cinnamon
1/2 teaspoon ground cardamom
1/3 cup milk
2 royal gala apples, cored, cut into 1.5cm pieces 
1/2 cup walnuts, roughly chopped
Butterscotch Sauce:
50g butter
1/2cup firmly packed brown sugar
1/2 cup pure cream
Method:
Preheat oven to 180C/160C fan-forced. Grease a 6cm-deep, 9.5cm x 19.5cm (base) loaf pan. Line with baking paper, extending paper 2cm above edges on all sides of pan.
Using an electric mixer, beat butter and sugar for 5 to 6 minutes or until light and creamy. Add eggs, one at a time, beating after each addition. Sift flour, cinnamon and cardamom over butter mixture. Add milk and 3⁄4 of the apple. Stir until just combined.
Spoon into prepared pan. Smooth top. Sprinkle with walnuts and remaining apple. Bake for 35 to 40 minutes or until a skewer inserted in the centre comes out clean. Stand in pan for 10 minutes. Transfer to a serving board.
Meanwhile, make Butterscotch Sauce. Place butter, sugar and cream in a small saucepan over medium heat. Cook, stirring, for 4 minutes or until sugar dissolves. Increase heat to medium-high. Bring to the boil. Reduce heat to medium-low. Simmer for 5 minutes or until slightly thickened.
Serve loaf warm, drizzled with butterscotch sauce.
Credit: taste.com.au
We'd love to see what Winter Warmers you're cooking in your MOJO Kitchen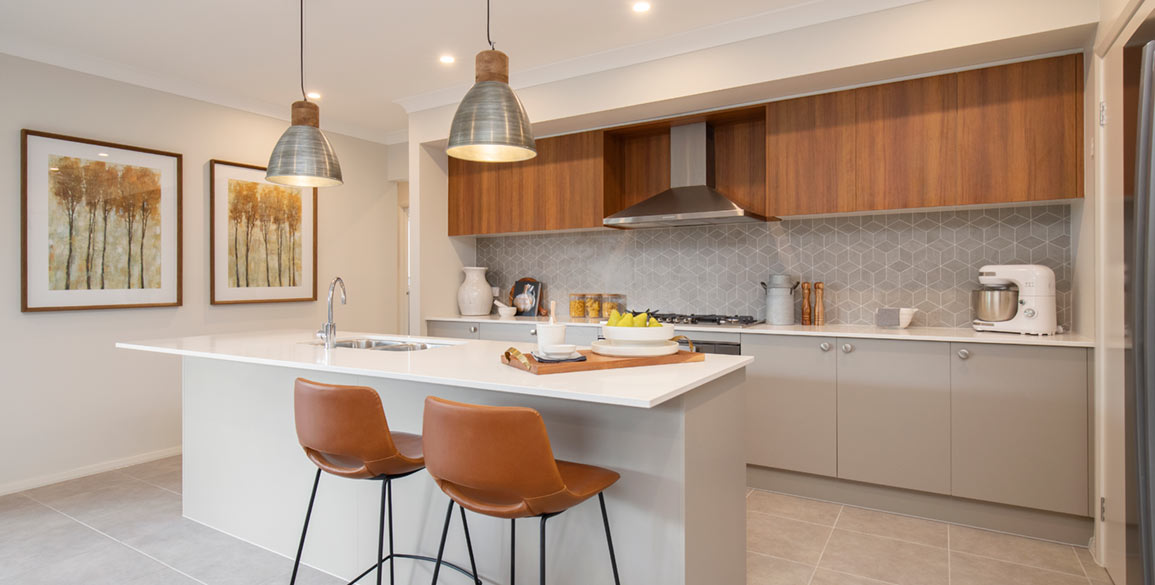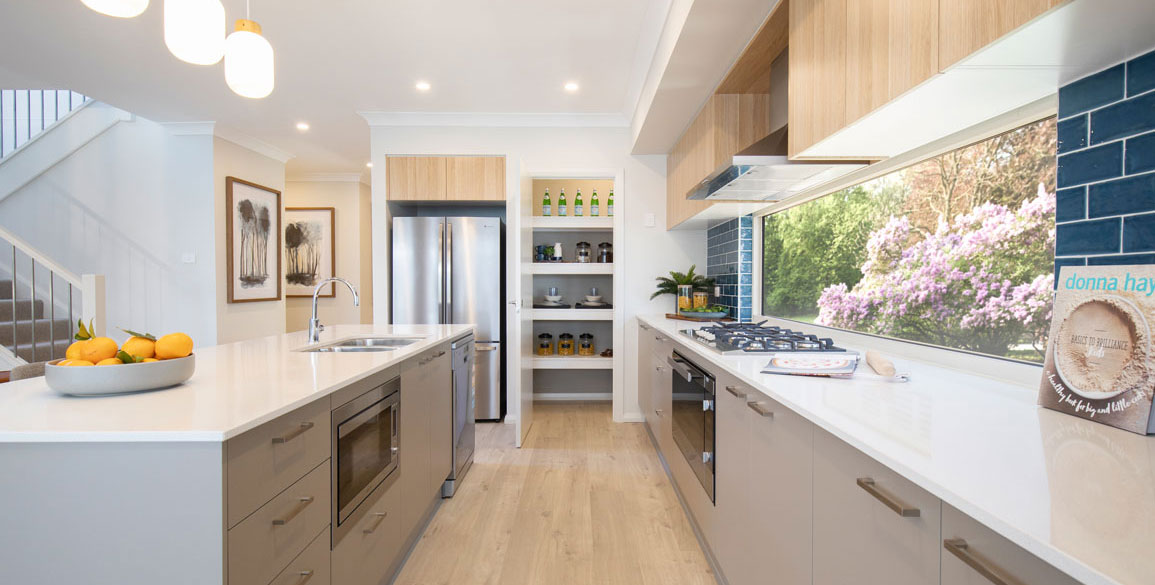 Take a photo and post it on your Facebook or Instagram, tagging #MOJOHomesAu, and visit a display home to see what the kitchen in your stunning new home could look like.