At MOJO, we can't wait to help you create a vibrant home that is unique to you. We're ready to make the steps to building a house exciting, enjoyable and easy, delivering your home in the shortest possible time frame.
Look at the Key Steps to Building a House with MOJO Homes

STEP 1: FREE SITE INSPECTION & QUOTE - YOUR DREAM HOME JOURNEY BEGINS
Found a design you love? It is our value and honesty policy to give you all known costs, including optional costs before you pay a deposit and sign your Building Agreement so you know exactly what's included in your home. Which for you, means NO hidden surprises. So the only surprise you get is how much you'll love your MOJO home.
For a detailed overview on the 8 steps to the MOJO Pre-Construction process click here
STEP 2: COLOUR SELECTIONS COMPLETED
This is the stage of building a house where you can really get creative with your personal Interior Designer and select your choice of colours and finishes at our MyChoice Design Studio. You will attend appointments for the selection of the internal, external and electrical requirements of your new home. The state-of-the art MyChoice Design Studio is a one-stop shop filled with all the latest trends for fittings, fixtures and finishes to create a home that is truly unique to you.

STEP 3: CONTRACT SIGNING
At the conclusion of all your MyChoice selection appointments, you will attend an appointment with your Client Relations Consultant to sign your Building Agreement, when you're happy and understand everything.
(Knock Down and Rebuild – If you are knocking down your existing home, now is the time to start planning and obtaining approvals to demolish)

STEP 4: COUNCIL APPROVAL
Once you have signed off on the Building Agreement, we will lodge your plans for approval with Council or a Private Certifier (also the Land Developer, Water Board and Mines Subsidence Board if applicable).
(Knock Down and Rebuild - Once your new home plans have been approved, you can now arrange to have your existing home demolished)

STEP 5: COMMENCE CONSTRUCTION
Well, building a house is no longer a grand dream. Your MOJO Home is coming to life right before your eyes and we're just as excited as you are! Your Site Supervisor will meet you at your new address at every milestone so you can watch your creation unfold, we also encourage you to refer to your MyHome Customer Portal for images and updates.
For a detailed overview on the 8 steps to the MOJO Construction process click here

STEP 6: SLAB COMPLETE
The first part of your new home, the slab, will be poured once all site excavation and under-slab drainage and piering has been complete.

STEP 7: FRAME COMPLETE
And this is when your home visibly takes shape! Enjoy seeing your new home come to life with shiny blue steel frames, roof trusses and joists. At this step of building your house, not only will the wall frames and roof be built, your windows and doors will also be installed.

STEP 8: BRICKWORK/HEBEL COMPLETE
After you carry out a pre-lining inspection with your Site Supervisor you will get a a good feel for how your new home will look as we install the brickwork/Hebel, roof covering, plumbing and electrical rough-ins and eave linings.

STEP 9: INTERNAL FITOUT
Moving indoors, the plasterboard linings are installed, the timber skirtings and architraves are completed, the Kitchen is installed and ceramic tiling is underway! You will be invited to talk about your ceramic tiling and look at your Kitchen and Bathroom cupboards.

STEP 10: PRACTICAL COMPLETION INSPECTION
It's starting to look like a real home now, with the finishing touches being finalised: painting, wall and floor tiling, electrical and plumbing installations and your shower screens, mirrors, splashback and shelving will also be installed. Visit your home and inspect it in all of it's glory before the official key handover is conducted.

STEP 11: OFFICIAL KEY HANDOVER
Your brand new MOJO home is now complete and waiting for you and your family to move in. We can't wait to see the smile on your face!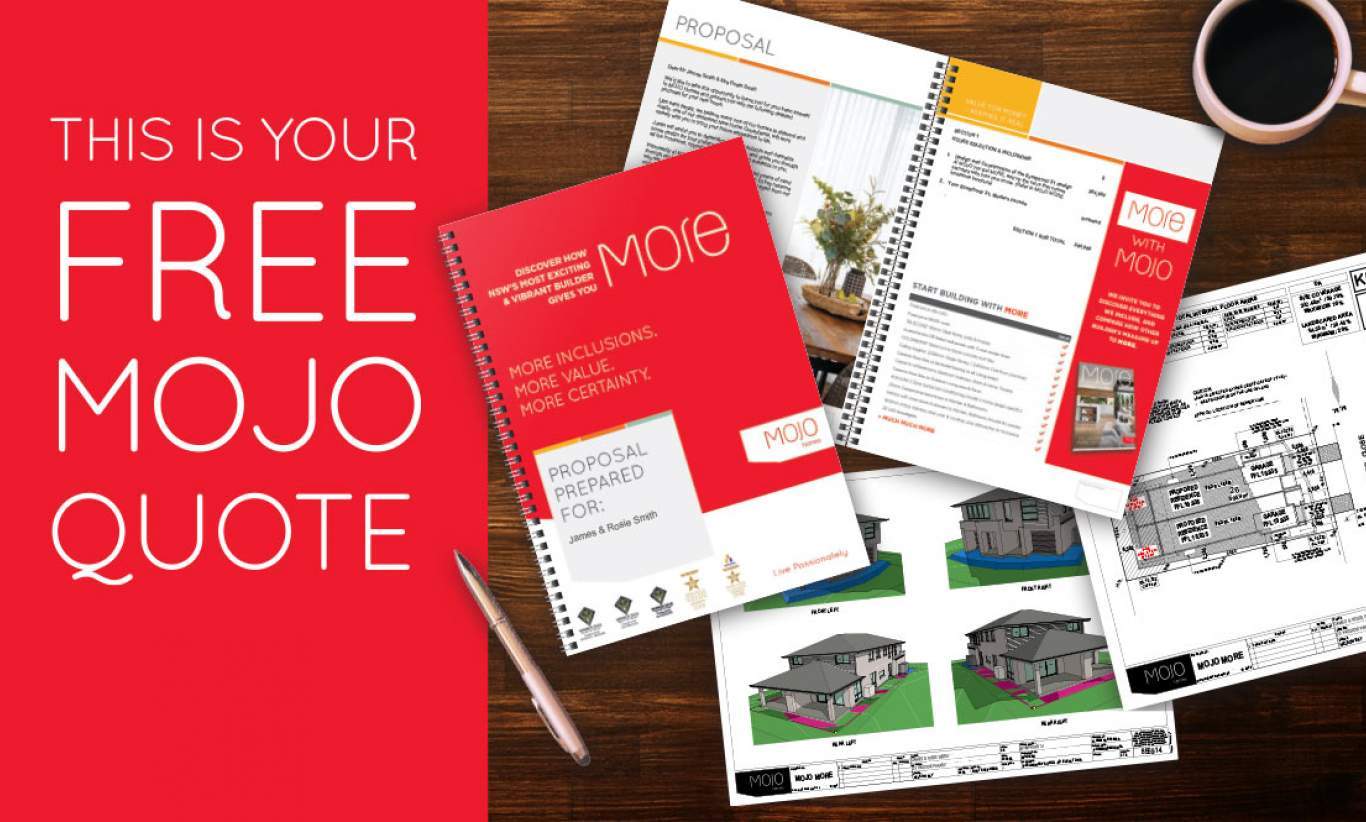 FREE SITE INSPECTION & QUOTE
Now that you understand the steps to building a house with MOJO Homes, let us spoil you for choice with our stunning selection of innovative, cutting edge home designs. Once you've selected yours, add your personal touch with our countless "click-on" options that will enhance the design to suit your family & lifestyle including Grand Outdoor Rooms, Butler's Pantries, Bedroom 1 to rear, and more.
With a large choice of cleverly designed options and extensive and impressive MOJO MORE inclusions, we'll prove you can be stylish on a budget by helping you get the most out of your MOJO home.
Find your dream MOJO Home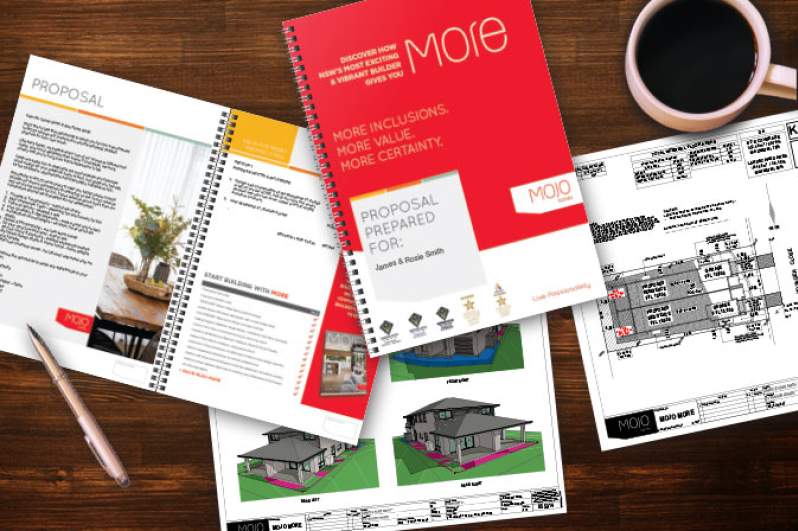 Free QUOTE WITH MOJO
Your FREE MOJO quote includes:
MORE Inclusions
Siting of your home*
Independent survey of your block*
Presented within 5 days
*Siting & survey available on registered land only. 5 day turn-around not guaranteed & pending availability to present in-person. MORE inclusions based on MOJO MORE product & pricelist.
drak-gray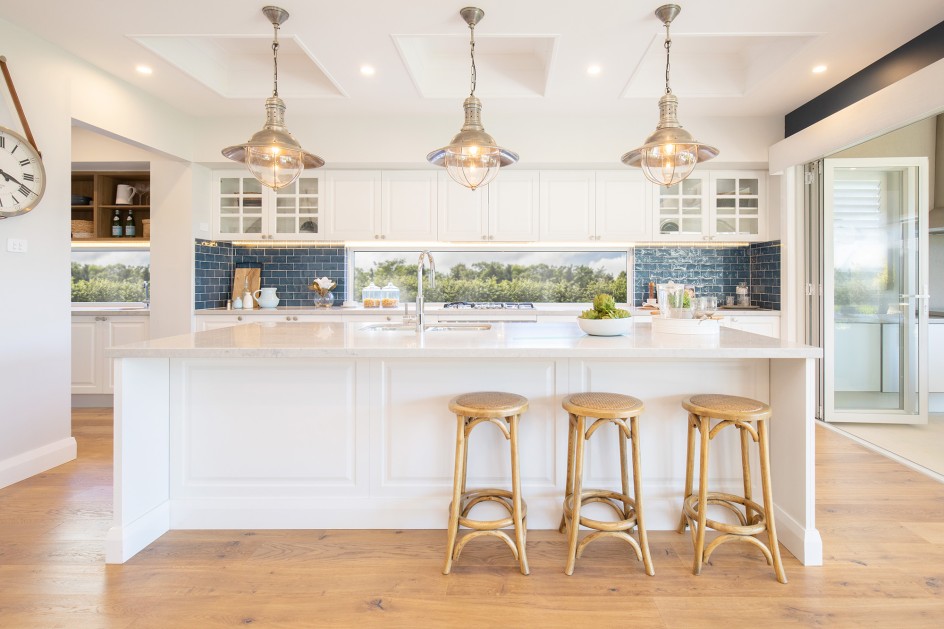 Live Passionately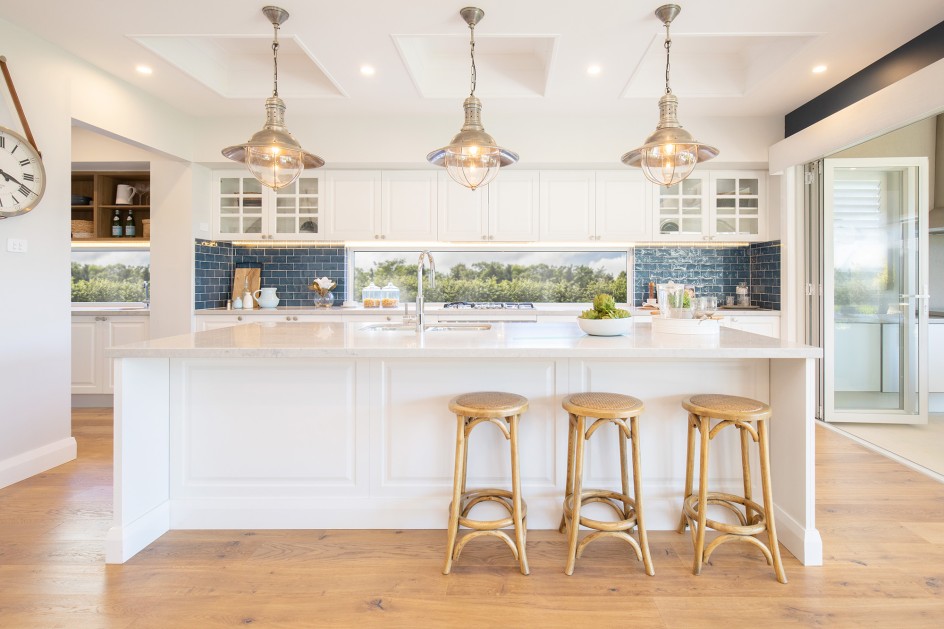 As promised, we've built your MOJO Home and enjoyed the process with you by our side. With our 90 Day Defect Liability Period, we'll be there for you once you have started living in your new home, should you need us. The keys are in your hands. It's time to move in, fill the space with the people and things you love and start the next chapter of your life. And most of all, Live Passionately.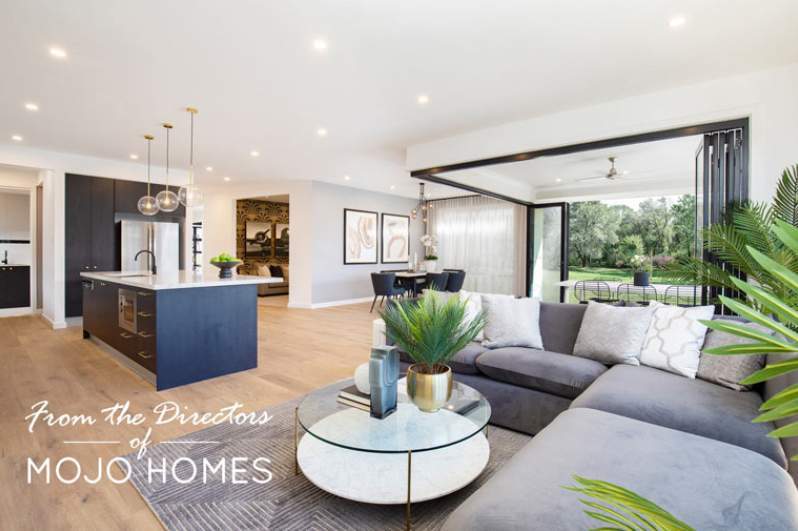 OUR COMMITMENT To You
FROM THE DIRECTORS OF MOJO HOMES
As NSW's most exciting and vibrant builder we want to ensure that you never lose sight of enjoying a better future.
HOW WE WILL HELP YOU:
• $5,000 paid on proposal acceptance.
• Nothing more to pay until we are ready to apply for your building approvals.
• Guarantee today's price for 12 months from the date your deposit was paid.
*Conditions apply
drak-gray