A Modern Global Table Decor Guide for the Holiday Season: Embracing the Mediterranean Vibe

As the holiday season approaches, it's time to infuse your home with a touch of global charm, and what better inspiration than the breezy elegance of a Mediterranean tablescape. Explore how to create a modern and globally-inspired tablescape that captures the vibrant spirit of this coastal paradise.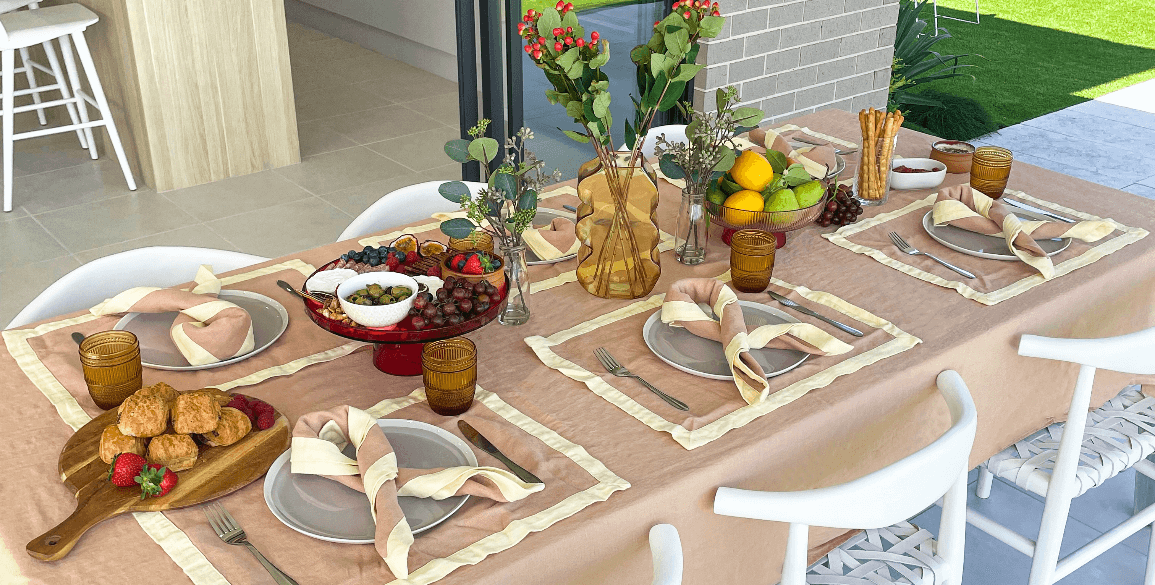 EMBRACE THE ALL-OUT TABLESCAPE
To set the stage for a Mediterranean-inspired feast, start with the foundation – your table linens. Opt for a gauzy tablecloth or vibrant placemats that reflect the lively colours of the region. Use these textiles as a canvas to showcase your collection of glassware and ceramics. The goal is to create a harmonious blend that exudes the warmth and beauty of a Mediterranean celebration.
Elevate your table setting by layering linens to create depth and visual interest. If your tablecloth boasts a bold print, complement it with placemats in a solid linen hue, preferably in unique shapes like scalloped designs. Complete the layered look with stylish napkins that tie the elements together. This approach ensures your table is not only colourful but also cohesive, providing a delightful feast for the eyes.
INCORPORATE LIVELY, ARTISANAL CERAMICS
Give your table a handcrafted touch by incorporating a variety of multi-coloured ceramics. Embrace the beauty of mismatched pieces, as the eclectic mix adds authenticity to the setting. Scatter these vibrant ceramics throughout your tablescape.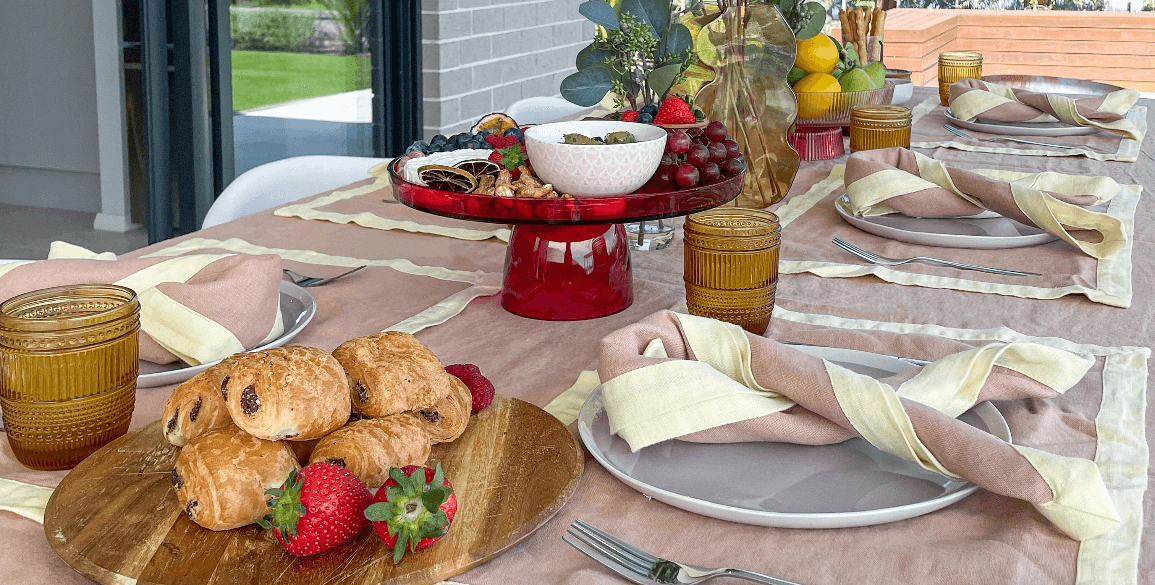 CURATE BEAUTIFUL GLASSWARE AND CERAMICS
Invest in statement glassware and ceramics to anchor your table decor. The aesthetic power of these pieces cannot be overstated, and by curating a delightful mix of bowls, plates, and glasses, you can build a captivating tablescape. Experiment with eclectic combinations of colours and textures for a wonderfully diverse look or stick to a cohesive scheme.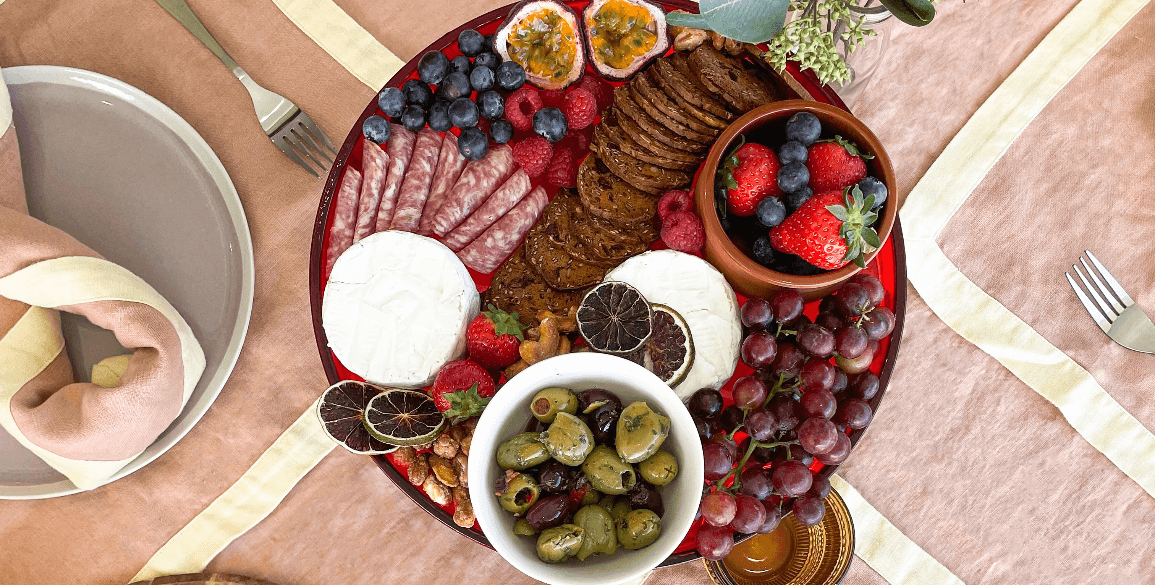 USE FRUITS AND VEGGIES
Elevate your tablescape with more than just decorative elements – incorporate fruits and vegetables for a fresh and organic touch. Inspired by the abundance of Sicily, scatter lemons with their leaves still attached or opt for contrasting red tomatoes and bell peppers against a crisp white tablecloth. This not only adds visual appeal but also introduces a natural, earthy aroma to your festive gathering.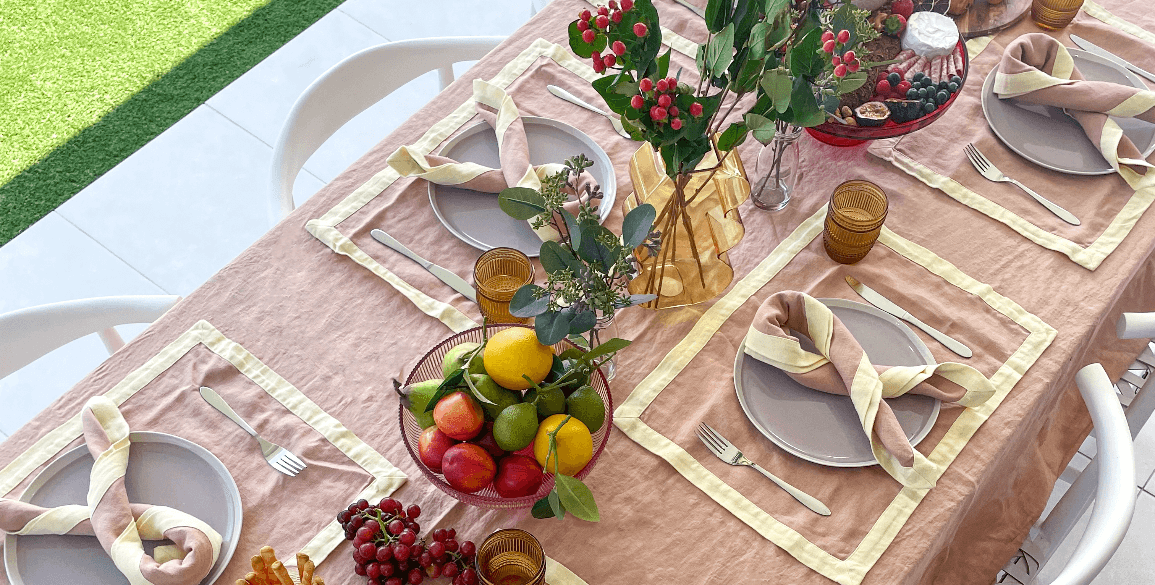 By embracing the Mediterranean vibe and infusing your holiday table with vibrant colours, lively ceramics, and organic elements, you can transport your guests to a coastal paradise without leaving your home. Create a tablescape that not only reflects your global aesthetic but also celebrates the joy and warmth of the holiday season in a style uniquely your own. Cheers to a festive and globally-inspired holiday gathering!
WIN THIS TABLESCAPE
WIN a Global tablescape just in time for the holidays! Transform your dining experience with Bed Threads' Terracotta & Limoncello Linen Collection, featuring a table cloth, napkins, and placemats, paired with Ecology dinner plates, tumblers, and a stylish cutlery set for 6! 
Head to our Instagram to enter.
 
---