Waterford Living
Display Homes
Explore and experience two exciting display homes that deliver so much! Style, space and function effectively deliver lifestyle possibilities for every hour of the day. Everyday just got a whole lot more interesting. Discover why today by visiting our Waterford Living display.
Address & Contact Details
Open Hours
Open 10am-5pm, closed Tuesday and Wednesday
Building and Design Consultant
Display Home Location Map
42 Settlers Blvd
Chisholm
NSW
2322
Australia
FREQUENTLY ASKED QUESTIONS ABOUT WATERFORD LIVING DISPLAY HOMES
Discover more about our MOJO display homes at Waterford Living. We've included some of the questions customers frequently ask below so you're ready for your visit.
DO I NEED TO MAKE AN APPOINTMENT TO VISIT YOUR Waterford Living DISPLAY HOMES?
Due to the current NSW regulations we have a strictly limited capacity on visitors to our Display Homes. To avoid disappointment, booking an appointment is strongly encouraged. Please book your appointment with a consultant here.
Do I need to be vaccinated to attend a display home?
In line with the current NSW Government regulations all visitors to our Display Homes aged 16 years and over must be fully vaccinated and must be able to show proof of their vaccination status. Please rest assured, all of our Display home team are also fully vaccinated.
CAN I TAKE PHOTOS OF THE DISPLAY HOMES?
Of course! Feel free to take photos as you tour the displays. Or alternatively, view the image gallery on our individual display home listings at mojohomes.com.au.
HOW DO I FIND YOUR DISPLAY HOMES?
You can find a map, address details and get directions link for this display home by scrolling back up the page just a little.
Is this house on display at another display home location with a different decor style?
The Oasis 31 is also on display at Wongawilli with a Classic look and feel, as opposed to the Scandi styling of our Waterford Living display.
Is everything in this display home included as standard?
The Oasis 31 is built with Luxury upgrades from our ICONIC Collection, learn more about our ICONIC Collection.
The Conga 26 display homes are built with all MOJO MORE standard inclusions, meaning everything in this home is included as standard!
DO I NEED TO WEAR A FACE MASK BECAUSE OF COVID-19?
Currently we do not require you to wear a face mask within this display, however you are free to do so if you wish. Our sales consultants may also be wearing one for their own safety.
DO I NEED TO PROVIDE MY CONTACT DETAILS AT YOUR DISPLAY HOME FOR CONTACT TRACING?
HOW WILL MY CONTACT DETAILS BE USED? HOW LONG WILL THEY BE KEPT?
HOW ARE YOU MAINTAINING SOCIAL DISTANCING IN THE DISPLAY HOMES?
Our display home offices feature Perspex wall separators for protection when meeting with the sales team and we are offering hand sanitiser and face masks.
ARE YOU PROVIDING HAND SANITISER?
All display homes are currently equipped with hand sanitiser for both staff and visitor use.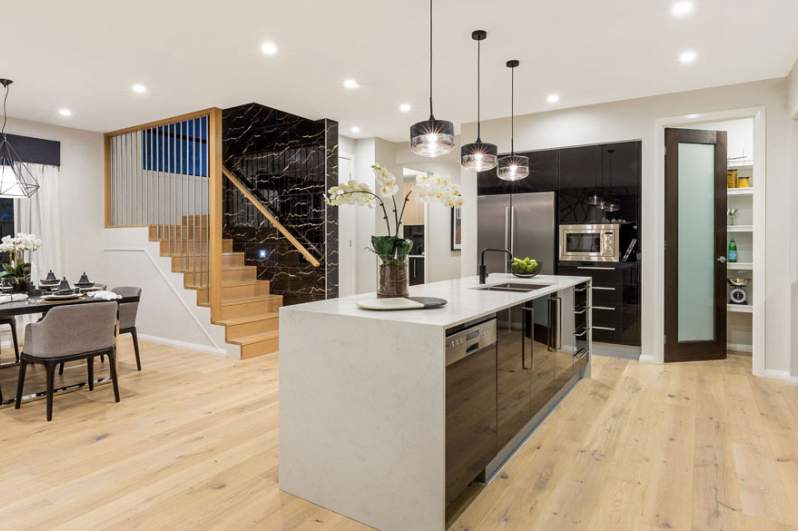 DISCOVER MORE MOJO DISPLAY HOMES
Discover more MOJO display homes nearby with unbelievably spacious & flexible floorplans, superior inclusions & a building experience you'll treasure for life. Why not visit our other display homes in the Hunter Valley? We've got more stunning display homes to explore at Huntlee and Homeworld Thornton.
green