Thanks to having more time at home over the past year, a lot of us have been spending more time in the Kitchen. Becoming a high traffic area, it is important that our Kitchens have enough space and storage whilst staying stylish and on trend all at the same time. 
Now more than ever, homeowners are installing Butlers Pantries into their home designs. 
Butler's Pantries are a functional space that compliment your Kitchen and are perfect to use as additional storage space for all your kitchenware and groceries. Not only that, it is a space where you can prep meals away from the main Kitchen or hide the mess while entertaining guests. Most modern homes now include a Butler's Pantry, where organisation is key. Think Marie Kondo; having designated spaces for pantry items helps you find things more easily, cuts down on wastage and is so satisfying! 
MOJO BUTLER'S PANTRY DESIGNS 
MOJO's home designs offer a number of additional features and click-on options that allow our customers to create the perfect floor plan to suit their individual needs. Explore some of our favourite Butler's Pantry designs:
THE CHARISMA 37

The Charisma 37, on display at HomeWorld Box Hill, a design packed with functionality and charm. The Charisma includes a spacious Butler's Pantry with extra overhead and under-bench cupboard storage for all your pantry essentials.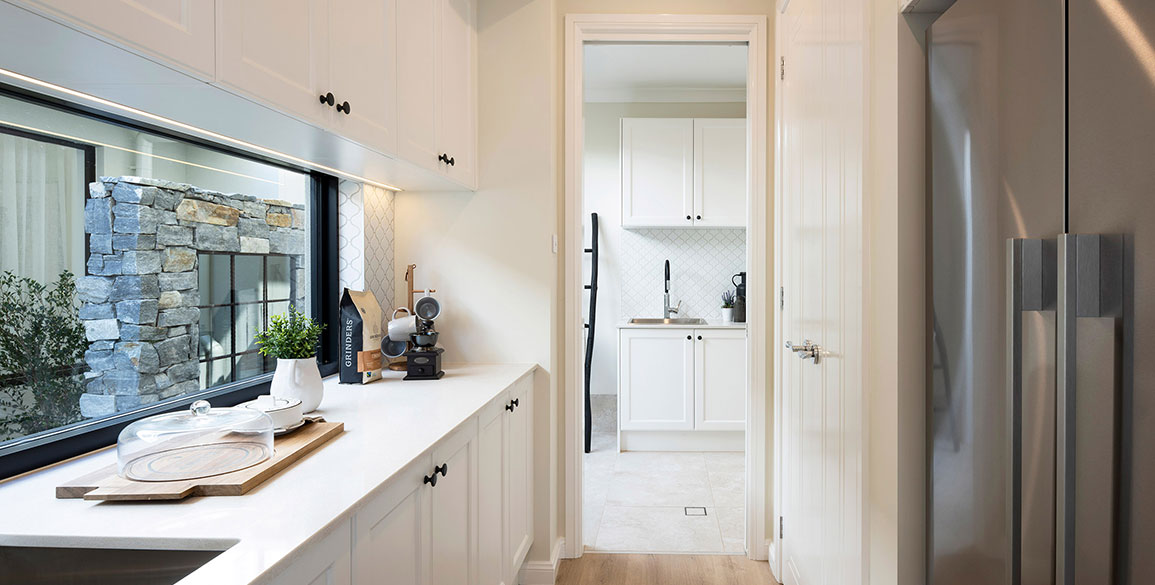 ENGIMA 46

Also on display at HomeWorld Box Hill, the Enigma 46 Kitchen, Butler's Pantry and Laundry are all interconnected. This creates a huge sense of space and grandeur, especially when set off by the large splashback window in each space which allows light to fill this seemingly endless corridor.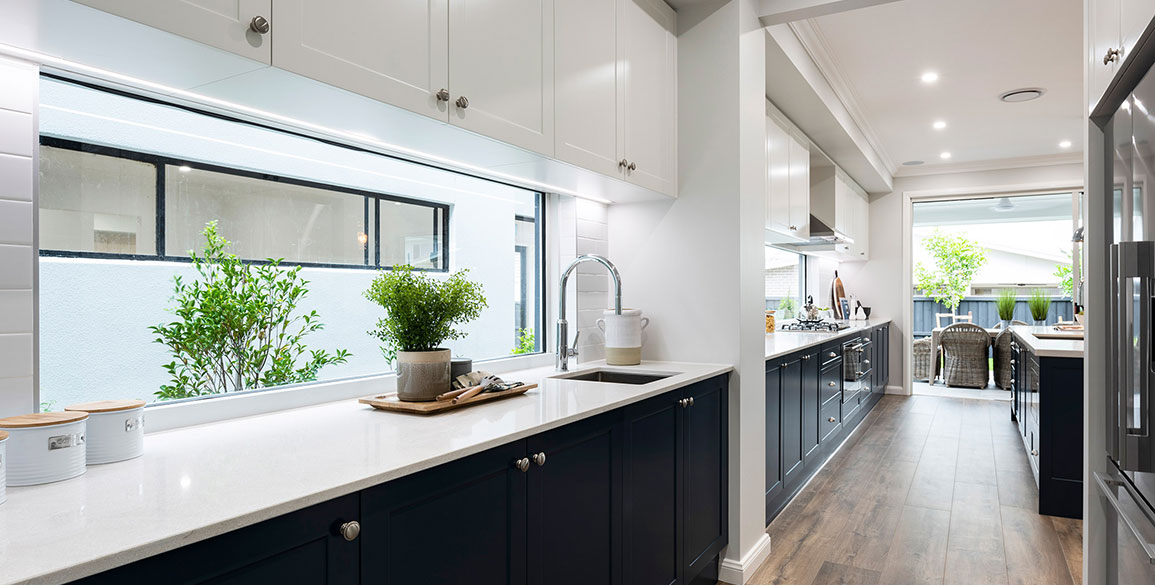 NAUTICA 36

A stylish home with plenty of space for the whole family. The Nautica 36 on display at HomeWorld Warnervale offers greater luxury and practicality for large or busy families with the Butler's Pantry adjoined to the Laundry.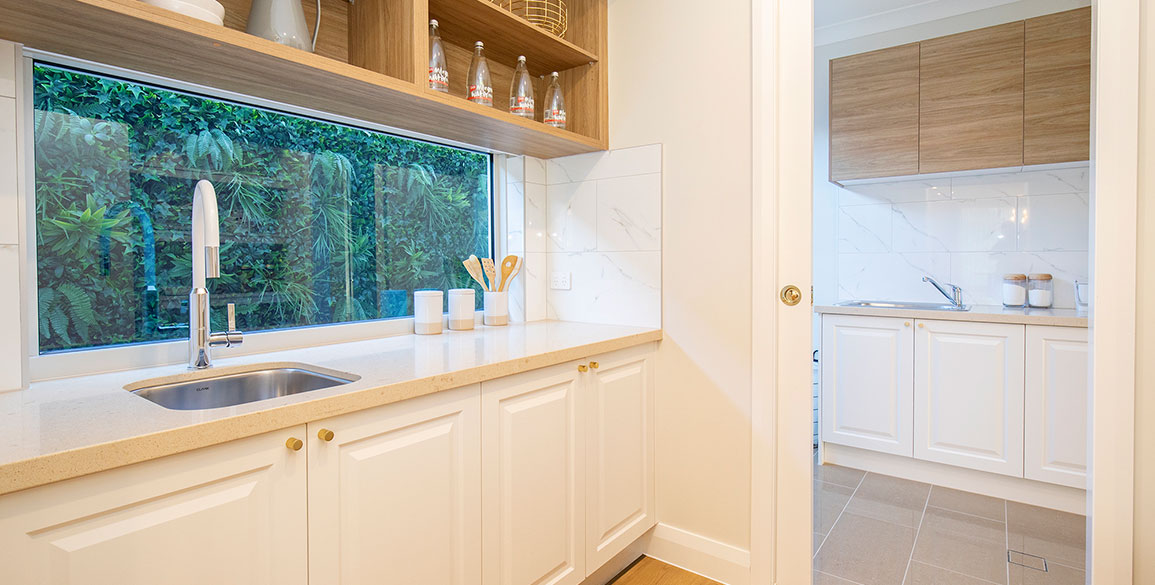 CARRINGTON GRAND 31
The Butler's Pantry in the Carrington Grand One 31 is a functional space that compliments the Kitchen and is perfect to use as additional storage space for all your kitchenware, glassware and wine of course!
Located behind the Kitchen, the Butler's Pantry continues the classic finishes that are throughout the Home and opens to a large Walk-In-Pantry with two entries. A handy link to the hallway and easy access for delivery of groceries from the garage.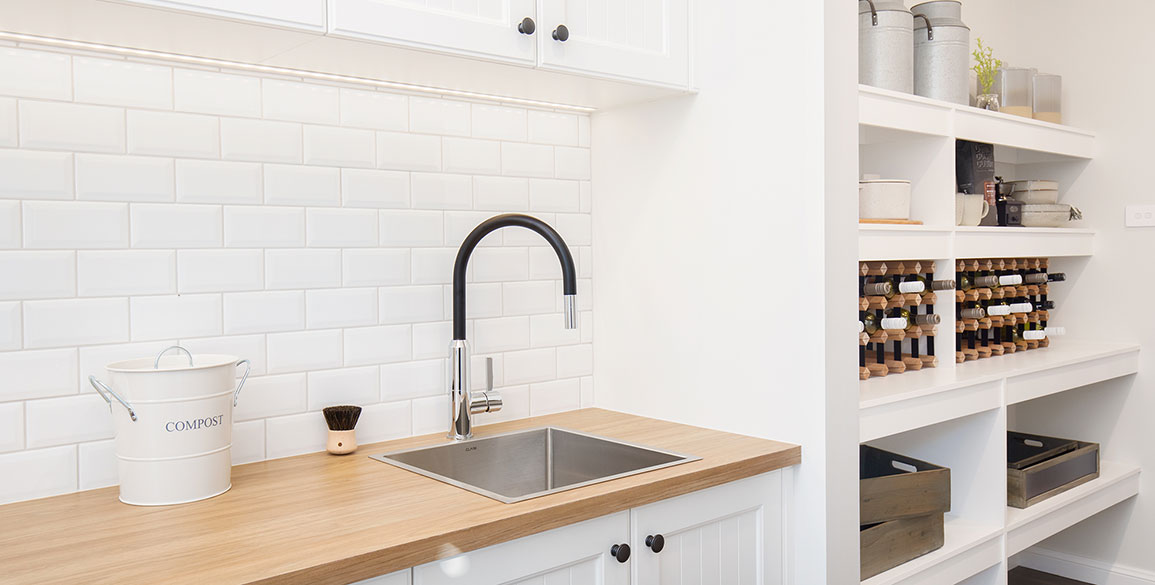 View our Homes designed for entertainment, or talk to us today about our click on options. Call our MOJO Homes team on 1300 006 656 or enquire online.