Long gone are the days when Coastal style embodied beachside cliche decor and motifs. 

Today it's a design used in both Classic and Contempo homes, and is identifiable by its perfectly relaxed, unassuming style, paying homage to its natural environment. And you don't have to live by the beach to reflect the coastal interior design style in your home. Set against a crisp white backdrop, it's an easy, casual look that transports you to a perfect summer day at the beach by using an ocean inspired palette of the beautiful colours of the sea, the sand, and the native vegetation. 
Whether it's Coastal-inspired furniture, colour palettes or living spaces that will make you feel like you're at the beach, we have a host of coastal interior decorating tips for you, just in time for Summer.

COASTAL COLOUR PALETTE

Colour palettes should be drawn from the lively coastal hues found in nature such as sky blue, teals, eggshell, beige and crisp whites. 

OUR FAVOURITE COASTAL COLOUR SCHEMES 

-    Taubmans June Fog
-    Taubmans Illusive White 
-    Taubmans Apache Stone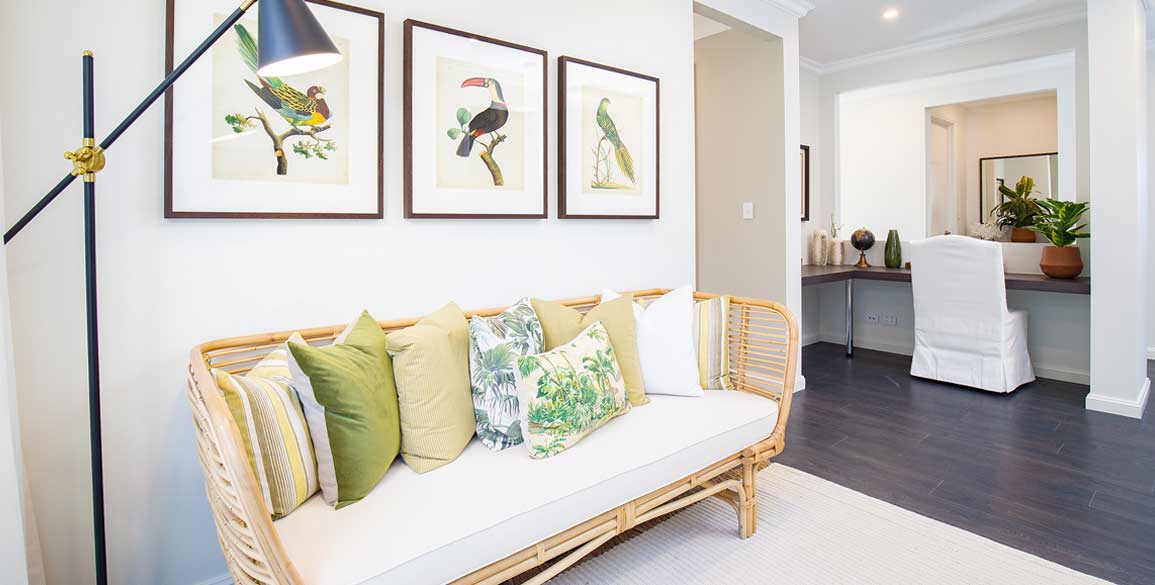 COASTAL HOME TEXTURES 

A fresh white base colour throughout accented with stainless steel, timber, and woven materials create the perfect Modern Coastal palette. Natural materials, weathered wood, linen, wicker, and sea grass are commonly found in beach house design. 

FLOORING

Sandy Blonde timber flooring is the perfect addition to your home if you're after the coastal look.

OUR FAVOURITE FLOORING:

-    Quickstep Majestic Valley Oak
-    Pergo Modern Plank Scraped Vintage Oak
-    Pergo long and wide Country Oak
-    Godfrey Hirst Regal Oak in Doulton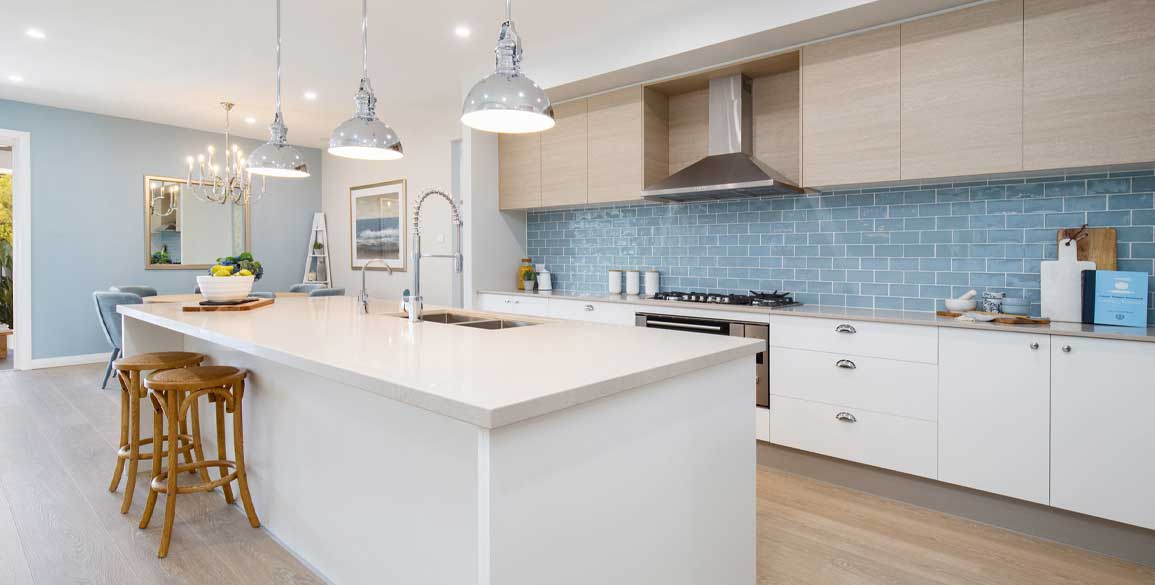 LET LIGHT SHINE IN 

Natural light is said to be one of the most important elements when it comes to designing a coastal home. With the installation of sky lights, stacker doors as well as your paint choice, your home will be flooded with light. 

BEACHY TIMBER ACCENTS

Light timber, bamboo or textured finishes on your furniture such as dining table or chairs create a coastal aesthetic.  Think bar stools to soften your kitchen space, or perhaps a timber bedhead in the bedroom to achieve that beachy look. In the dining room try a bench seat on one side, and timber chairs on the other.
Rattan is having a much-awaited moment in the spotlight. Coming in a world of finishes, styles and looks you can mix and match different pieces to create an authentic look.

The great thing about coastal style is its versatility. There are no hard and fast rules so you really can mix things up. 

Take a Virtual Tour of our Coastal designed Homes, designed for you to Live Passionately, or visit the Single Storey Symphony 29 on display at Watagan Park and the Oasis 30 on display at Wongawilli this weekend.