There are a variety of roofing choices available in today's new home market. However, before deciding which roofing system is right for your new home, it is important to understand the key features of different roof types. Read as we explore the differences between our most popular design choices: gabled and skillion roofs. 
WHAT IS A GABLED ROOF?
The most traditional roof shape, a Gabled roof is also referred to as the pitched or peaked roof, the gable roof is a classic and one of the most popular roof types you will find on most Australian homes. Having a triangular shape, the roof features two sloping faces that meet right at the top of the ridge.
The gabled roof style continues to dominate roof designs today due to its simplicity, adaptability and all round appeal. 

ADVANTAGES
The design of a gabled roof allows water to fall off the roof rather than settle and cause problems with the structure and interiors of the home. The gabled roof allows excellent ventilation in the home and interior space compared to other roof styles. 

SOARING TO NEW HEIGHTS
The high, sloping design creates a lot of headspace inside homes that have a gable roof. This design allows for high ceilings and even vaulted ceilings.

ONE, TWO, THREE?
If one roof is good, how about two or three? In some home designs, you'll see homes that have multiple gables to create more than one ridgeline across the roof of the house.
The gable roof also works great with just about any home design. It can be put on all sorts of different houses, which makes it a versatile and practical option when you're topping any home.
WHAT IS A SKILLION ROOF?
The skillion roof is most at home on modern residential designs, where it creates a unique and eye-catching architectural feature and brings a sense of heightened interest to the facade of the house and kerb side appeal. 
Skillion roofs differ from other standard roofs in that they only have a single flat surface, as opposed to having two sloping sides which meet in a ridge or peak in the centre of a home. 
The clean aesthetic lines and smooth surfaces work well in conjunction with timber, steel and concrete. These industrial cues are only expected to continue to rise in popularity.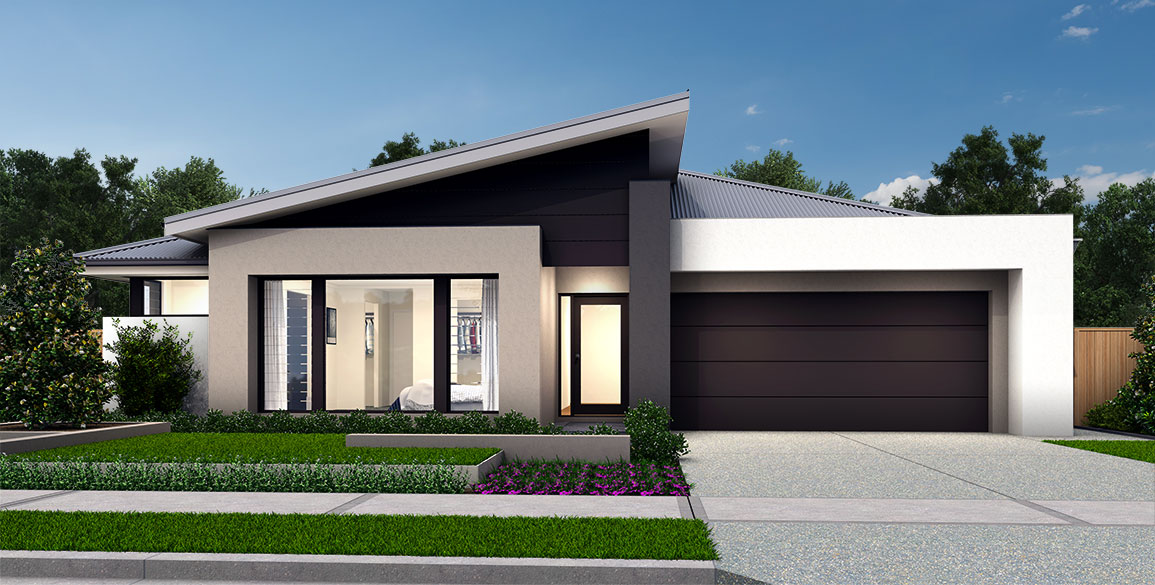 ECO FRIENDLY AND SUSTAINABLE 
A great advantage is that they can circumvent drainage problems associated with other roof types, by enabling water to run off to one side providing better catchment for rainwater tanks. If you are looking at adding solar panels, this roof design can aid in providing more area for solar panels facing the optimal direction for harvesting solar power.

ASTHETIC DESIGN – INSIDE AND OUT
The singular sweeping steep line of the skillion roof is sure to draw attention to your home from the street, while the soaring ceilings inside your home will be a conversation piece for many dinner parties to come.
MORE WITH MOJO
Start with MORE in your new home. The MOJO way means the big-ticket items and the finer details that elevate a home are include in your build cost! Specially included in your roof: 

ROOF & GUTTERS

•    Boral concrete roof tiles sure to enhance your roof's profile and contribute to the desired look for your new home. Choose from: Macquarie, Slimline or Contour (colour-on) range, including sarking to the underside of the roof
•    OR COLORBOND® Steel roof from MOJO MORE range, including thermal blanket
•    450mm eaves to pitched roof designs (design specific)
•    22.5 degree roof pitch (design specific)
•    COLORBOND® fascia & 115mm quad gutters, from standard COLORBOND® range
•    90mm painted PVC downpipes connected to rainwater system
Check out more of our inclusions.
Both a skillion roof and a pitched roof are equally fantastic and can complete the design of the home. Discuss with your New Home Consultant about our MOJO skillion and gabled roof options.