Meet Nick & Louise 
Home Design: Vibe 23
Facade: Modern 
Location: Vista Park, Wongawilli 
Wongawilli is a suburb on the outskirts of Wollongong, set against the beautiful Illawarra escarpment, surrounded by beautiful mountains and just 15mins from Wollongong beaches and National Parks. Wongawilli is well serviced by existing amenities to ensure that you can live the life you have always imagined.
Their story: 
Nick and Louise are a lovely young couple who spontaneously decided to call in to MOJO's Cameron Grove Display Centre on the way home from a weekend in the Hunter Valley, where they instantly fell in love with the quality of our homes and the incredible standard inclusions. From there, they found the perfect single storey design with a layout that was practical and exactly what they wanted. 
Favourite part of the home: Kitchen and Living area 
A bit about the design: Full to the brim with style, luxury and charisma, the Vibe 23 combines contemporary convenience and classic architecture in a home you'll always love living in. Thanks to clever touches like the Walk-In Pantry, Linen and internal access to the Garage, life is a breeze here – however you live. Ticking all the boxes, it's the perfect combination of clever layout, comfortable living areas and a generous feeling of space with four Bedrooms, open-plan Kitchen/Dining/Living, Home Theatre and generous Outdoor Living.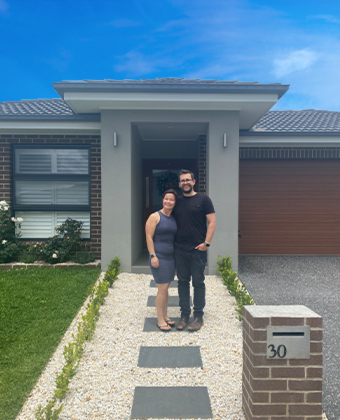 Meet the Jabre's 
Home Design: Modified Encore 32
Facade: Contempo 
Location: Box Hill Heights 
Box Hill is located in one of Sydney's fastest growing regions, the Hills district. With new local infrastructure, transport and village centres on the rise, this booming hub of North West Sydney is both a wonderful place to live and a wise place to invest. 
Their story: 
The Jabre's are an easy going, fun and modern family with two young boys and the cutest Bordoodle. They were looking for a double storey house that was not only stylish, functional and had all the modern conveniences of everyday family living, but also had the highest quality finishes and could easily adapt to a growing family. The Jabre's decided to modify their design by extending the walk-in robe and outdoor living as well as adding a butler's pantry. 
Favourite part of the home: Open Plan Kitchen, Living & Dining 
A bit about the design: Life doesn't get much better than in the Encore 32! A true family home, its design is uncluttered and clean, creating the perfect canvas on which you can paint the lifestyle you've always dreamed of. Perfectly suited to a 12.5-metre block, it's big and beautiful – offering a flexibility that means you can truly make it your own and live in it your way. With four Bedrooms, Home Theatre, Children's Activity, Outdoor Living, two Bathrooms and a Powder Room, it really has it all!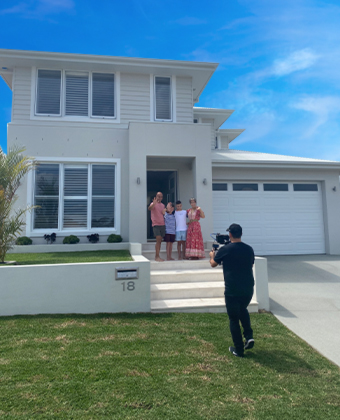 Keep your eyes peeled for when we launch these special moments on social media to celebrate a very Merry MOJO Christmas. 
#MOJOHomesAu #LivePassionately